| | | |
| --- | --- | --- |
| | Live Draft | |
---
Live Draft is a $9.95 Premium Feature.
Click to watch the video demo.
Live Draft enables you to interactively enter your pool's draft selections on-line as they are made by your poolies.
There is no limit to the number of teams you can have drafting, but 20 teams is probably a reasonable upper limit based on screen size.
The best undrafted Players, Goalies, and Defense are displayed with drafted players removed as you draft.
Warnings are displayed if someone tries to select a player that has already been selected.
Remote poolies are able to follow along with the draft as it is happening (they can NOT make their selections on-line yet - they'll need to have a phone or chat connection to where you're drafting).

Remote Poolies
Remote poolies can watch the draft: http://thehockeypool.com/cgi/myDraft.cgi
Everyone can see a list of the best undrafted players per-NHL-team: http://thehockeypool.com/cgi/myDraftTeams.cgi
Both of the above pages refresh automatically every 30 seconds until the draft is done.

If the Live Draft is interrupted for any reason, you can re-start the Live Draft and it will pick up where it left off.
Players with injury reports are high-lighted in the Best Undrafted charts in yellow, and the injury report appears when you hover the cursor over the player. Additionally, the full known injury report is printed at the bottom of the page.
Snake Order / Ladder Order
In the example image below, the areas in RED show the active draft position, and draft direction.
The draft automatically reverses direction at the end of each round if 'Snake' order selected on the Admin page before starting LiveDraft, or it can be switched to 'Ladder' where each round starts over with the position 1 poolie drafting.
The Undrafted players lists show the best available remaining players. For Playoff pools, this list is filtered to only show playoff-bound players/teams.
Goaltending teams can be drafted by entering the name of the NHL team.
There is a separate, updating page showing the Top 10 available scorers and goalies on each team.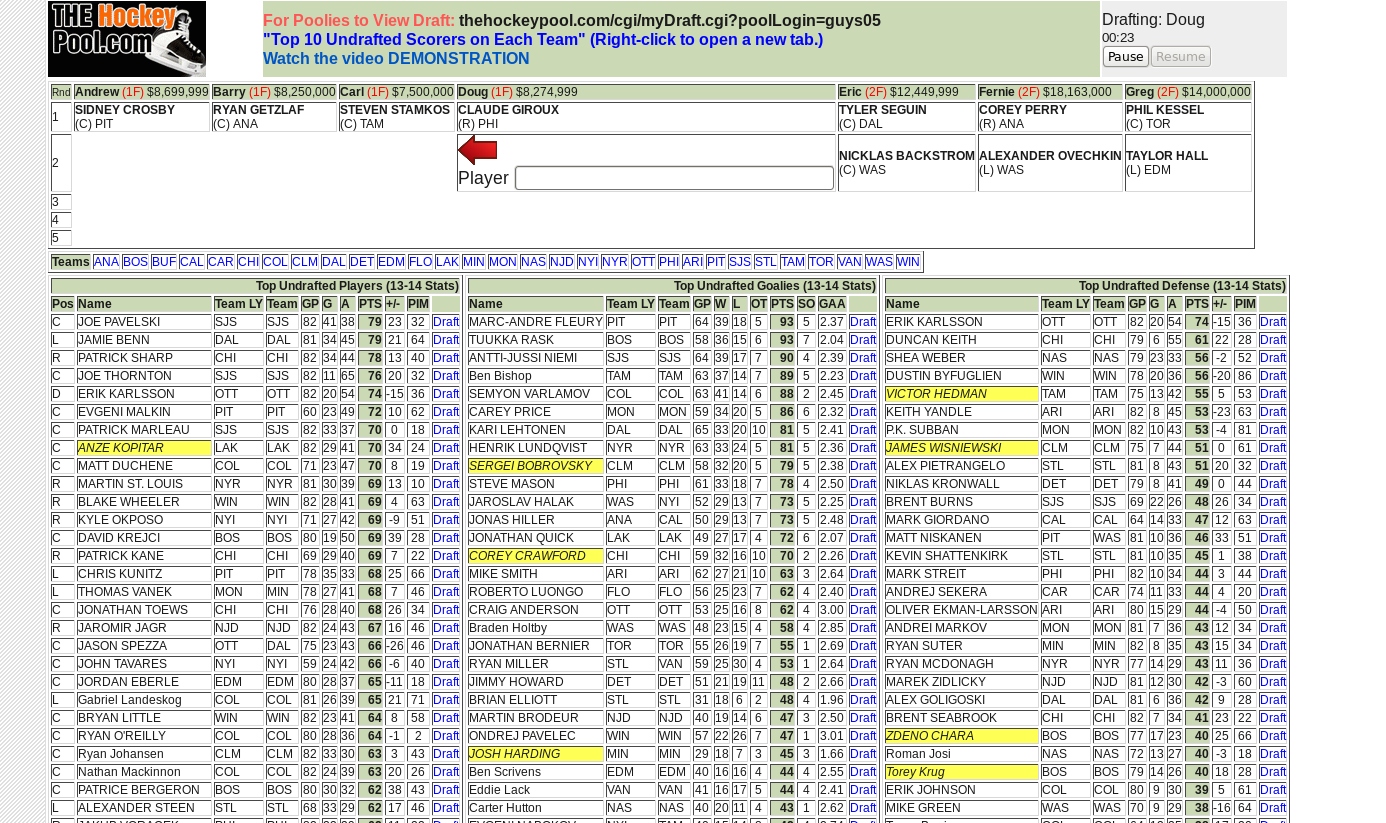 ---
Features that are not yet available, but coming soon:
Remote poolies can draft on-line.
Customizable scoring and stat categories for the undrafted charts.
Many other features, but we're looking for suggestions, too. Please send us feedback!
Customizable draft selection order (some pools allow draft trades).